NAPURE, a German registered mattress brand is made according to the stringent German Technology. NO fillers or impurities are added into NAPURE latex. This has been tested and certified by German's reknowned laboratory ECO Umweltinstitut GmbH.
When you shop for a latex mattress, this is the logo you should be looking for.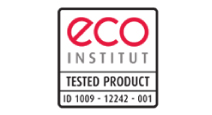 This German certification institute is one of the world's renowned and prominent organizations that conduct product examinations and quality assurance testing for over 20 years. ECO-INSTITUT carries out continuous quality assurance and warrants compliance with worldwide norms and laws for all types of products in trace and residue analytics of
health endangering chemicals and pollutant materials.
In ECO Umweltinstitut GmbH, the latex mattress is being tested on 2 main areas namely emission test and content analysis. For the emission test, a latex mattress was put into a test chamber loading to test parameter like carcinogenic, mutagenic and reproduction –toxic volatile organic
compounds, volatile organic compounds (VOC), very volatile organic compounds, semi volatile organic compounds, Carbon Disulfide, Nitrosamines and Formaldehyde. All these VOC will NOT be detectable in a safe and qualified latex mattress. NAPURE LATEX was tested and the eco- INSTITUT- Label criteria were successfully fulfilled.
The content analysis will show the polymer percentage and filler portion involved in making the latex mattress. NAPURE has been tested to contain 100% natural latex portion without any fillers.
There are many latex mattress available in the market. Not all of them is 100% natural and pure. So, please be a wise consumer. Always ask for the full ECO test report before you make your decision on the latex mattress. It could be one of the most important decisions you would make for in dream home.